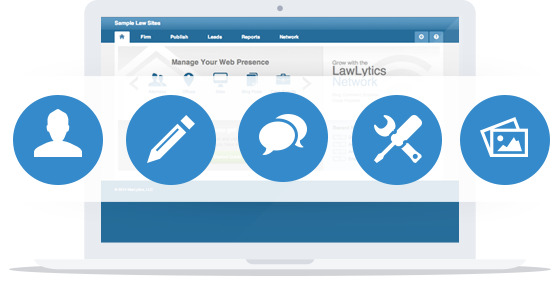 Marketing for modern lawyers
We created a website marketing platform that demystifies the web and empowers lawyers to participate in their firm's marketing. Now attorneys can control their professional destinies and outpace competitors, without outspending them.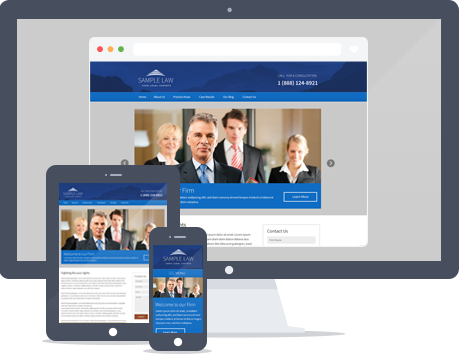 Law firm website design
We design, build, host and service law firm websites. Every site is mobile compatible and responsive, and designed for beauty, ease of use and search engine optimization. All sites include an optional blog.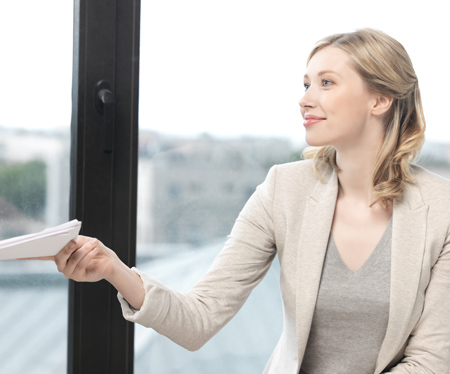 Our website design process
When law firms sign up for LawLytics they get a dedicated design and implementation team that spends 100% of their time designing websites for lawyers. We know what works, and how to guide our clients to that happy place while honoring what makes each firm unique. Our process saves attorneys time and stress, and typically results in a flawless launch in less than three weeks.
Intuitive control panel
Any lawyer who knows how to use a word processor or send an email already knows how to use the LawLytics Control Panel. Attorneys can easily create, edit and publish pages and blog posts to the web. No more waiting for the "tech guy" to respond.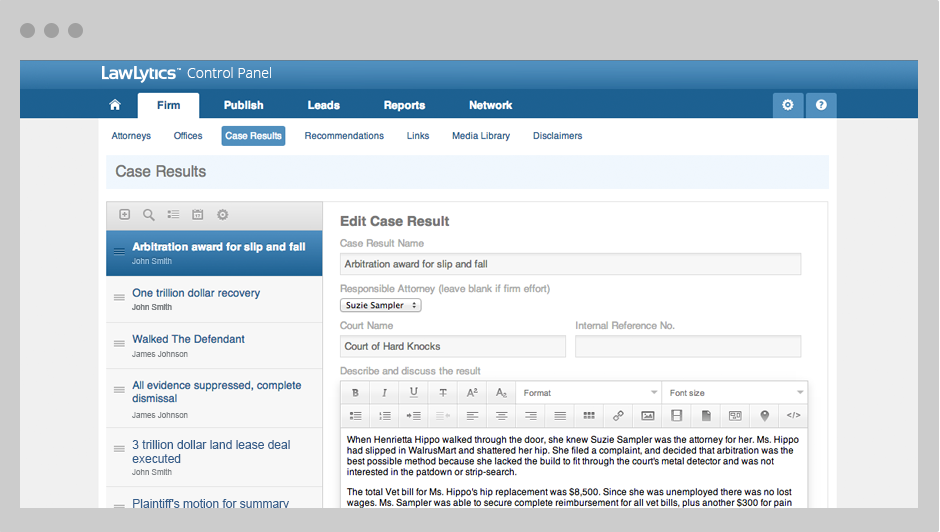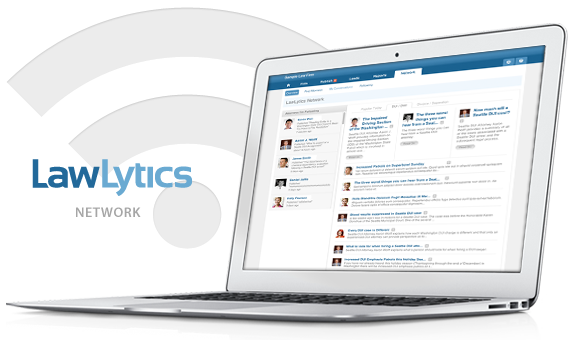 Network without the "work"
We built a better way for lawyers to cultivate their reputations and referral networks using the web. Our cross-marketing network and social media tools help attorneys harness the power of modern online networking without repetitive clicking and posting.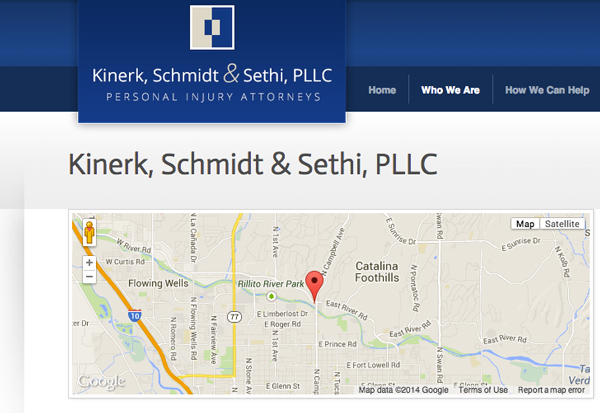 Local law firm marketing
The Control Panel includes built-in location based tools, including interactive Google Maps. Easily insert maps into any page by entering a street address.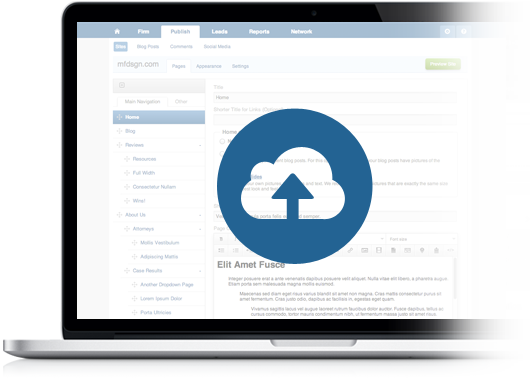 Upgrade
It's easy and safe for law firms to upgrade to LawLytics from any host, web platform or marketing provider. The transition process requires no work on the part of the law firm, and involves no downtime.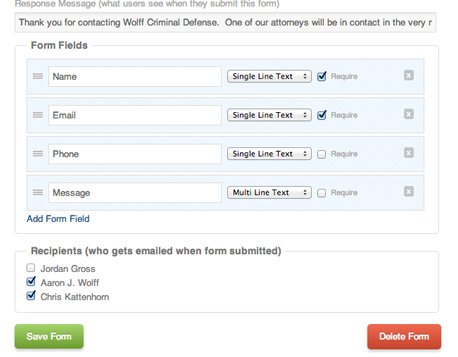 Build a better case pipeline
The Control Panel includes tools that help attorneys expand their flow of new cases. Use the easy web form builder to create and publish lead generation and client intake forms.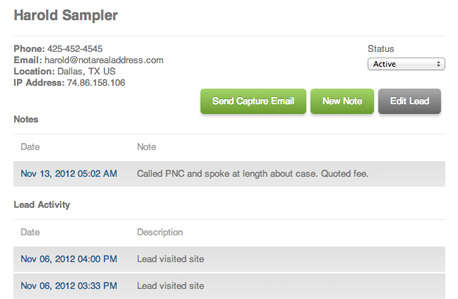 Never miss a potential new client
Use the LawLytics Control Panel to track potential new clients in a way that makes sense. See the pages they visit and know what influences new business.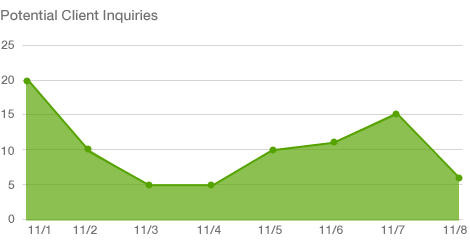 Simple analytics
The LawLytics Control Panel comes with simple web analytics to help attorneys understand how their marketing really works.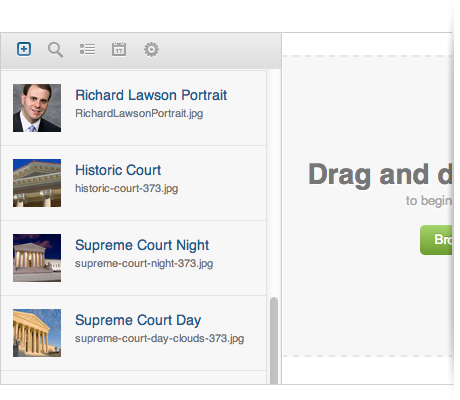 Drag, drop and take charge
When lawyers want to participate in their firm's marketing, the LawLytics Control Panel removes the technological barriers. It's intuitive, drag and drop simple, and designed for the way lawyers think about their businesses.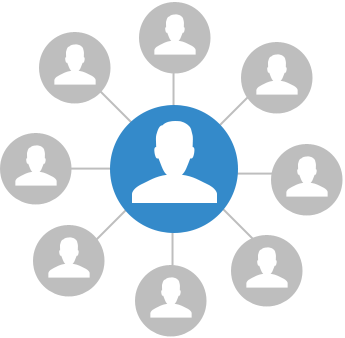 Delegate with confidence
The LawLytics Control Panel allows law firm stakeholders to safely delegate any aspect of their online legal marketing to their staff and 3rd party vendors without losing control. Deploy our consulting services on an ongoing or "as needed" basis to achieve the best balance of personal life, law practice and business.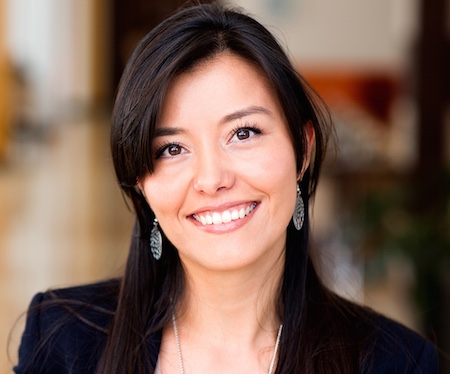 Our people make the difference
We're attorney owned and operated. We do not employ salespeople or pay sales commissions. We understand the intersection of legal marketing, legal ethics, technology and results. We operate LawLytics as the online marketing provider that we would want to collaborate with in our own law practices. We work only with lawyers and love contributing to the success of great law firms.
A new ethos, a different approach to legal marketing
We partner with law firms to create sustainable long-term marketing assets that appreciate over time. We profit when lawyers profit over time. Some more features:

Unlimited Content
There's no limit on how large a law firm's web presence can grow using LawLytics.

Unlimited Users
Each firm member can have their own secure user account.

Unlimited Targeting
Firms can target as many practice and geographic areas as they want.

Clear Ownership
Lawyers own their domains and copyright on all their content.

Quality Assurance
We have stringent processes to ensure the highest quality product.

Recipe For Success
LawLytics clients get a legal marketing roadmap proven to generate success.

Grow Intelligently
We help lawyers make adjustments in real time for continued growth.

Compete Smarter
We show lawyers how to outsmart their competition, not outspend them.

Sustainable Growth
Never throw money away on disposable advertising again.

Limitless Opportunity
We offer a range of services from high-end to entry-level.

Reach Everybody
Our sites are optimized for the best client experience on every device.

Search Friendly
Our sites are built with the search engines in mind.

Built For Lawyers
So there's never a need for us to compromise on features.

Built-In Social
It integrates with Facebook, LinkedIn, Google+ and Twitter.

Unlimited Support
We train, guide, and support our clients at all times.
A brief video introduction to LawLytics
LawLytics CEO Dan Jaffe on what to expect.
Our attorney customers become our advocates.
Here's what they have said about our software, service and bottom-line results.
"A much more personal experience."