Note: Infographic for this study available here.
With Pew Research showing that 63% of cell phone owners use their phone to go online (and 34% of them use a smartphone as their primary internet source), it's not surprising that mobile compatibility is a big selling point for most law firm website and marketing companies this year. That's why our software has offered responsive design since our launch in 2012.
We compiled data from 733,346 visits across randomly-selected law firm websites from different regions of the country. The locations were selected to reduce regional trends in device and platform use.
The data was compiled from January 1 through April 1, 2014. We then organized the data by operating system (OS). Next week, we'll publish a similar study analyzing browser use. For each of these platforms, a reasonable amount of time has passed for users to upgrade to the latest version.(1)
Hypothesis
Given the Pew Research (and other) internet-use statistics, we expected the results to show between 30-40% mobile visits. Additionally, given the numbers of iOS devices currently in use, we expected these numbers to slightly surpass Android visits. Among desktop visitors, we expected Windows to be the dominant platform, matching its market share of around 90%.
Results
We organized the results by all operating systems, then divided them into desktop and mobile platforms. The last comparison is between mobile and desktop visits.
Operating System
n = 733,346 visits

Desktop-only
n = 404,038 visits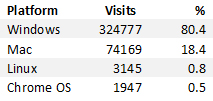 Mobile-only
n = 329,308 visits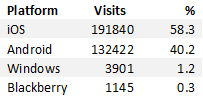 Desktop vs Mobile
n = 733,346 visits

Discussion
There is a clear trend toward mobile browsing on law firm websites, but we'll break the results up again into the three important groups.
Mobile vs. Desktop
The first result that stands out is the difference between mobile and desktop visits. We expected mobile visits to be high, but 45% was a little surprising. This reinforces the importance of having a fully-functioning mobile web presence. Whether through a dedicated mobile site or responsive design, having a strong mobile presence is critical for law firms. That's 329,308 visits that would have gone elsewhere had these attorneys not offered such user-friendly designs. This may be an area for a future survey, because it would be interesting to know how mobile users engaged with these sites compared to desktop users.
Android vs. iOS
The mobile-only numbers were as expected. While Android sales have recently surpassed iPhones in the U.S. (and carry a significantly larger share globally), some results show that iOS users spend disproportionately more time online than Android users. However, other results show this to be false. This 18% difference may be due to regional effects due to the sample size.
Windows vs. Mac
The Windows results were around 9% lower than the operating system's actual share, with Mac OS X representing 18% of visits. This may also have been due to a regional bias, as 18% is more than double the Mac market share (~8.4%).
Operating System Versions
It is interesting to see that many visitors had not updated their operating system to the latest version. This may be due to the cost of upgrading. For Mac users, much of this may come from a perceived value given the relative frequency (yearly) of paid updates. However, these updates have grown less expensive, and 10.9 Mavericks was a free upgrade from 10.8 Mountain Lion.
For Windows, there are a few likely reasons for this discrepancy. First, Windows 8 (and 8.1) are relatively new and have received mixed reviews. Windows 7 has been available since 2009 and remains a consumer favorite. Similarly, the large number of Windows XP users is not surprising due to the prevalence of the operating system among businesses. However, with official support ending April 8, 2014, that number should fall.
There was a shocking amount of Windows Vista traffic. We can't explain that. Vista was (by general consensus) a pretty poor experience. The Windows NT and 2000 traffic also stood out. We also didn't expect to see Windows 98 on the list, but there were two.
Conclusions
While the desktop operating system numbers are fun to look at, they don't really make much difference without also looking at the browser implications. Despite the installation of IE and Safari on Windows and Mac computers, users are (spoiler alert!) still likely to use Chrome and Firefox (more on this in our next survey), so the differences between operating systems are dampened. However, this may become a talking point as displays continue to increase in resolution (and pixel density), where Windows users have more hardware to choose from (and therefore can be less predictable as a group).
The same goes for iOS versus Android devices. While these numbers will continue to shift, there is still little difference in browsing experience between the two apart from resolution and browser. However, the experience is still very similar.
The most important takeaway from this survey is the significant amount of mobile traffic. On these sites, 45% of traffic came from mobile devices. That means the user experience on mobile needs to be excellent. A 2012 Google study showed that 72% of consumers think it's important for brands to have a mobile-friendly site. On top of that, 79% of mobile search engine users indicated they would leave a site due to a bad experience. Even more concerning is that 55% said bad mobile experiences hurt their opinion of a brand, and 61% said they wouldn't even buy from the company!
So if nearly half of law firm website traffic is mobile, why wouldn't you want a web presence optimized around a mobile user experience? It's not enough to simply have a mobile website. Your mobile experience needs to impress, because your competitors are only a few swipes/clicks/shakes away.
Looking for more?
Join attorney and LawLytics co-founder Dan Jaffe for a free webinar on Friday, April 18 at 10am PDT (1pm EDT). The webinar will be a discussion of how attorneys can take a data-driven approach to their online legal marketing. It should run for approximately one hour.
---
(1) Windows 8.1 was released last October, Mac OS X 10.9 Mavericks was released around the same time, iOS 7 was released in September, the first Android 4 (Ice Cream Sandwich) release was released in 2011 (although 4.4 Kit Kat was also released last October). However, because some of these platforms released big updates during the survey period and others are device-restricted, we organized the operating systems by major version.
Some may argue there is too much difference between Ice Cream Sandwich, Jelly Bean, and Kit Kat to lump into a single version, but device manufacturer limitations are a controlling factor here. We kept Windows 8 and 8.1 separate, because it was a free update, so there is little reason for users not to have updated by this point.